Preparatory B (from 3 to 5). Lesson 17
Previous Lesson                                                              Next Lesson
To all lessons
Your FREE Demo version is here
Your full version access is here
Are you getting to know your toddler even better after following my course? Today in our pedagogy class we will talk about
The Best Instrument for Lessons
Do you already know what am I going to say?  Now, after several months of practicing you will agree that...

The best instrument for first music lessons, with small preschool children, is a 61 key  synthesizer, that does not have weighted keys. This should be the most simple instrument, without back lighting or optional features: they distract the child from the task at hand.
If your family already has an acoustic Piano, its a good idea using it in the future.
Without noticeable progress the desire to learn music quickly disappears in the child.
If your family already have a digital instrument with weighted keys, try to use it in moderation. Often children between 24-36 months are unable to control their strength when pressing the keys down. They cannot manage, the construction of coordination tasks and pressing down the keys properly simultaneously. It is necessary to have an instrument that has keys which respond to a light touch, i.e.: the most simple synthesizer.
I've had many students who later became professional musicians and successful people, who started their music journey with a 61-keys keyboard in a small group. Their parents wanted to make sure that music classes were effective for their children. This is a realistic and correct way to approach music education.
If you have concerns or preservation, read my article about digital keyboards vs acoustic pianos here
...
Hanon # 1 Exercise

This is the "ignition key" for a machine called a hand.

Hanon helps to go through all the white keys using all the fingers in turn. It teaches perception an important lesson: "The ocean of keys is not that big and you can swim across it."

It shows you how to move around the keyboard space in a circular motion, and how stretching (jumping over one keyboard) helps you move on.
Watch the video instruction about how to play this exercise:
1.Print out the following pictures and help your child to have fun playing it. But don't push him/her to do it!

We call this exercise "the Caterpillar":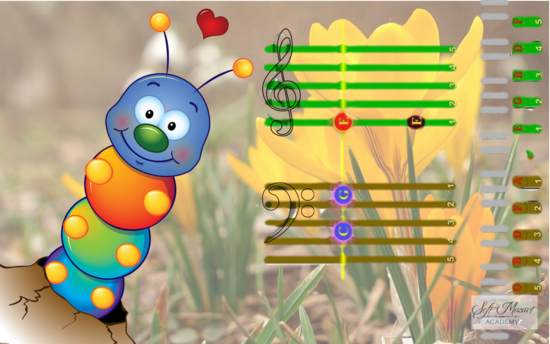 Put your thumb on any key.  Skip the next key and say "skip," and then go in order towards your pinkie and say: one, two, three.

And then from the pinkie march with your fingers backwards:




And say "four, five, six, seven."
As you see, your thumb is now on the next key!  Start this all over again and again!
....
Keep working on the 

Note Alphabet®

Be sure to teach your child to keep his left hand on the space bar, and his right hand on the right-left arrows.
Withstand the same time, stop the module and record the number of coins that have fallen into the basket.
Watch that the number of coins in the basket gradually increases.
If there are no positive dynamics, give your child less time to work with the module.
Video example:
....
If your child is developing faster or slower than our plans suggest, we recommend writing to us at admin@softmozart.com to start working with our certified specialists.
1. Repeat all of your previous piano pieces
2. 2. "A New Year's Tree"- mastering the piece with the help of the TEACHING VIDEOS.
With a metronome:
With no metronome:
3. "Ode to Joy"  - R1, R3, L1, L3, P1, P3 - keep singing the right hand solfeggio for better memorization
4. Music Sight-Reading. ТИЗЕР for the "Arabic Dance" from the "Nitcracker" ballet by Peter Tchaikovsky. Download the LMZ file and add it to the Gentle Piano Song Library.
Play R1 and L1
....
Find on the Internet "Arabic dance" from the ballet "Nutcracker" in orchestral performance.
Enjoy!
...
Visit our Soft Mozart forum and start your progress diary here. Use the current year section. This is the place for you to ask questions and share your experiences.

At least 2 photos and 1-2 videos of the listed activities will count towards your child's credits for the graduation DIPLOMA. Please upload the video to You Tube, copy the address from the BROWSER window and paste it into your Progress Diary. Do not forget to indicate the year and type of work in the description of your Soft Mozart Academy photo / video.

Sincerely Yours,
Hellene Hiner

Video success:
  Would you like to receive lessons by email weekly? Subscribe to the e-mail lesson here:
All the lesson plans:
For 2+ students
For students from 3 to 5
For students 5+

Always check here, if we have any recital!  You and your child will benefit a lot from participating in our concerts!
Your place to start your progress diary is here.