Preparatory A (from 2+). Lesson 46
Your FREE Demo version is here
Your full version access is here
How are you? Do you have any questions, concerns, suggestions? Let me know!

Today in our Pedagogy Class we will talk about verbal ways for developing child's music attention.
Attention and Development of Ability to See Musical Notation
Just like visual perception of images develops in newborns, so does their attention, directed towards visual perception of music notation.
Note Alphabet, the Alphabet Song, and working with note sequences direct attention towards memorization of note sequences.  Knowing these sequences helps visual perception find the note in the system.

The ability to focus on a music note, isolate it from among the musical text, shift the visual focus from the note to the key, control the strength of the impact force – all these and other physical problems should be considered when working with beginners.
Only gradual development and improvement of these skills help them switch to autopilot mode. This saves child's attention energy and enables him to independently solve super-structural problems.
As we already experienced before, in the Soft Mozart program, the physical parameters of attention development are measured with numbers. The figure on the left helps understand the number of mistakes. The figure on the right shows the time delay in relation to real time (presentations 1 to 5). As a rule, delay is caused by namely switching attention to solving physical problems.
Decrease in the amount of mistakes as well as lower time delay on the timer helps both the student and the teacher decide whether the student is ready to move on to more complext tasks and what the maximum optimal increase in the work load is.
Focus. In order to teach the beginner to focus on music notation, we work with cards where he can learn to find them with the help of images, voice, and sound.
Concentration.  For the purpose of visual perception development, the Gentle Piano Module contains a focus line where a student can concentrate on a music symbol, study its distinct characteristics (color, position on lines or spaces), and remember it in more detail.
Focus Redirection. Identical key coding helps students learn visual focus from the music notation space to that of the keyboard.
...
Work on all exercises
Keep working on CHORDS (Solfeggio and Chords Level 1)

Keep recording videos for your graduation!
....
Keep working on your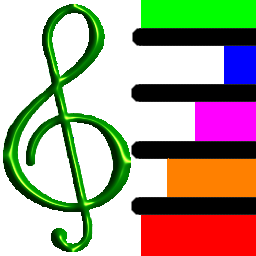 Treble Staff Puzzle
....

GENTLE PIANO
Nocturne Op.9 #2 by Chopin Practice L, R and P *optional*/repeat all songs
Work on all other piano pieces.

Keep recording videos for your graduation!
....
Enjoy this week spending quality time with your child, beautiful music and creativity!

Sincerely yours, Hellene Hiner.

Video sample:
PS
All the lesson plans:
for 24 months to 3 year old
3 year old to 5 year old
5+ year old
Intensive Course for Adults-beginners

Always check here, if there any recital in the progress! You and your child will benefit a lot from the participation.
Your place to start your Diary is here